"AN INDIVIDUAL TALENT SERVING THE COMMUNITY"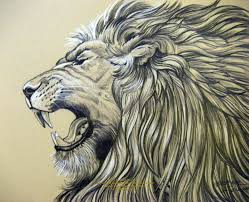 WELL DONE FOR YOUR IMPRESSIVE PROFESSIONAL PATH !
The title
REAL GAINDÉ
is awarded to all those who have
exceptionally
distinguished themselves by their service, their art and other professional activities carried out within the Senegalese society or African
community
in general.
Their accomplishments and actions have had a considerable impact at the cultural, social, economic, medical, legal, political, academic, artistic or sports level.
Some of them work in the shadows and others perform in the spotlight, with a national or international reputation.
Via this distinction, we celebrate their commitment & impressive career path.
Dre Aoua Bocar LY-Tall:
Sociologist / Researcher / Author and more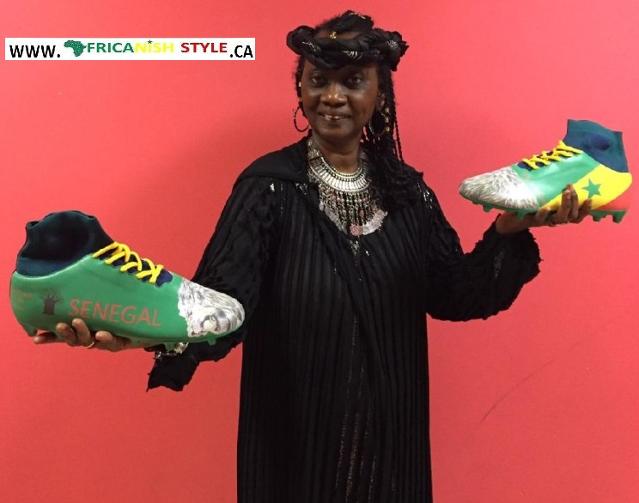 Dre Aoua Bocar LY-Tall
- Sociologist / Analyst ;
- Researcher in Social and Environmental Sciences ;
- Community organizer ;
- International speaker and consultant ;
- Author.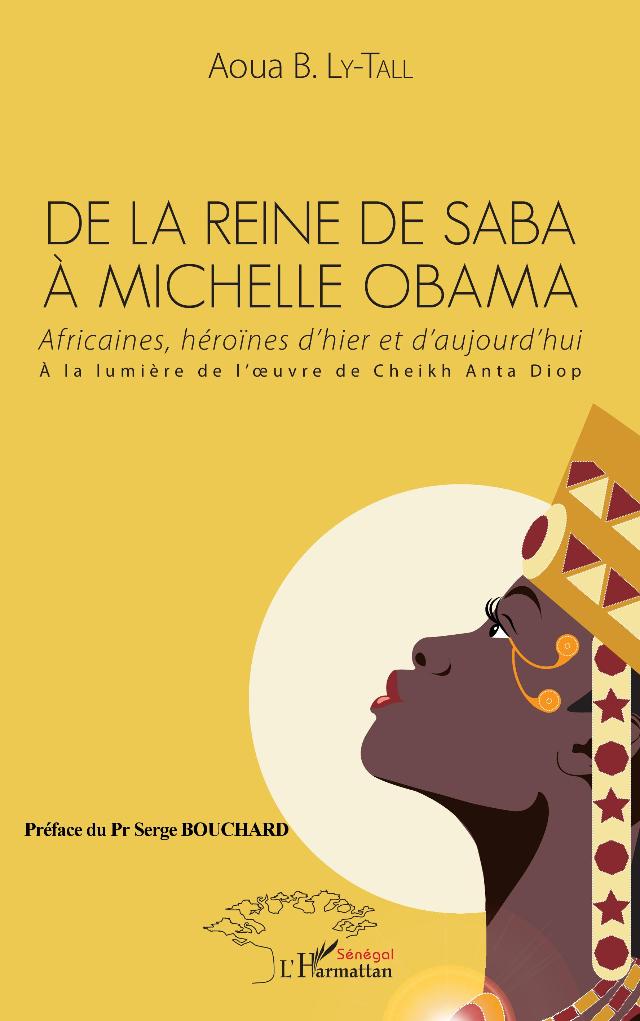 Publications of various writings were made,including her last book named "From the Queen of SABA to Michelle OBAMA, African women, heroines of yesterday and today: In the light of the work of Cheikh Anta DIOP" which traces the contribution of African women from the continent and its diasporas (North and South America, Europe and West Indies) to Universal Civilization.

Afro-Caribbean Prize of Excellence, Leadership Category Afro-Caribbean Night of Excellence, MHN, 2019. Click here for details.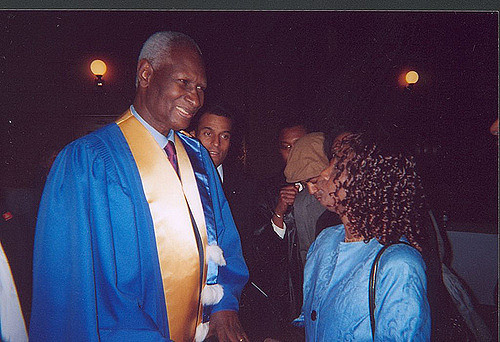 With the General Secretary of the Francophonie, Abdou Diouf, former President of Senegal.
What is the name of your company, business, group, club, party, association or organization?
- Institute of Feminist Studies and Gender, University of Ottawa, Canada ;
- Fem En Vie, Inc., consulting firm on Women, Sustainable Environment and Diversity Education ;
- "African Women" Network / DiaFémA , African Feminine Diaspora in Quebec, Canada.
What is the website?
What is your job?
- Associate Researcher IEFG / U.Ottawa; Expert Advisor, Fem En Vie, Inc.; President-founder DiaFémA.
How long have you been in the field?
18 and 23 years .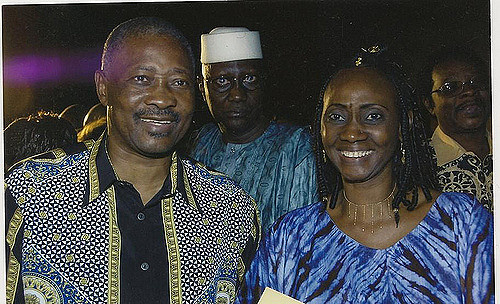 With the President of MALI.
Words of encouragement for "Africanish Style" :
Your creativity, your ingenuity and your daring confirm me in my Afro-Optimism. Proud of you ! Yes you can!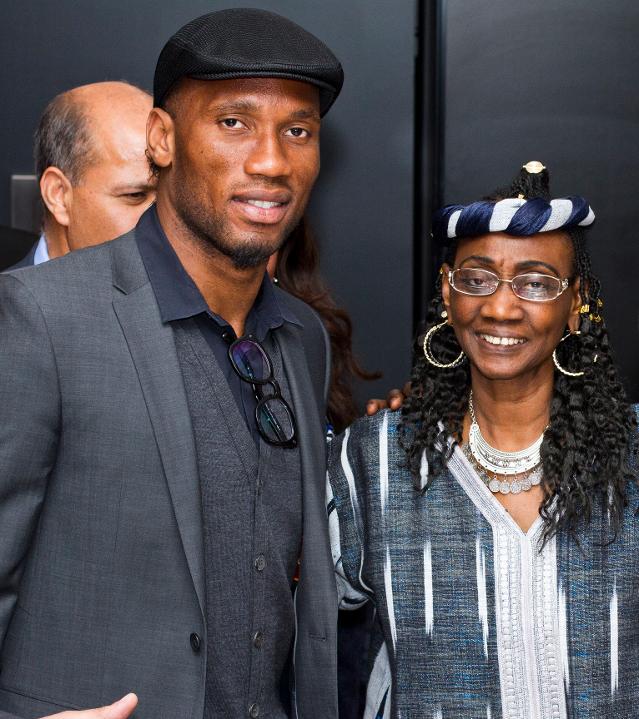 List of the most striking experiences:
International Consultant and Expert in Gender and Human Development, I have supported various United Nations agencies, research institutions and governmental and non-governmental organizations (NGOs) from the North and South including UNFPA, UNIFEM, FAO, CIDA, USAID, the Francophonie Affairs Forum, the Secretariat of the Women's Condition of Senegal, International Hydro-Quebec , the Parliamentary Center of Canada, the Treasury Board Secretariat associated to the Department of Immigration and Cultural Communities (MICC, current MIDI), World University Service of Canada (WUSC) working with the Center for International Studies and Cooperation (CECI) and the Council for the Development of Social Sciences in Africa (CODESRIA).
In this context and also as a speaker, I have been the guest of several media and in various forums around the world (Algeria, Argentina, Brazil, Burkina Faso, Canada / Quebec, Spain, Reunion Island, United States [Chicago, Columbia University in New York, Michigan States University in Detroit, Atlanta, Cincinnati and Temple University in Philadelphia], France, Geneva / Switzerland, Mali, Morocco, Senegal and Tunisia) to deal with different socio-economic, cultural topics and historical.
With the Algrian Minister of Culture,M.Azzedine MIHOUBI
Tell us more about your education:
- Doctorate (Ph.D.) in Environmental Sociology (Focus Genre), 1996: University of Montreal, Department of Sociology
- Certificate of Advanced Studies in Environmental Sciences, Institute of Environmental Sciences, Faculty of Sciences, 1981;
- Master's degree in Sociology (research methodologies), 1980;
- Certificate of Specialization (C.S) in Sociology, 1979;
- BA in Philosophy in June 1977;
- Specialization Certificate (C.S) in Psychology, 1976;
- University Diploma of Literary Studies (DUEL2), November 1974; Department of Philosophy, University Cheikh Anta DIOP of Dakar.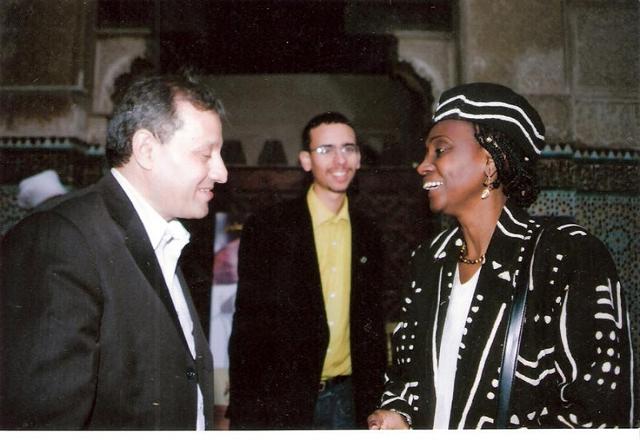 Cherif Brahim TIDJANI introducing her to Faouzi SKALI President of the Festival of Sufi Culture in Fez - MOROCCO
Advice for the youth:
Believe in yourself: you are able to succeed! Persevere! Persevere! Persevere!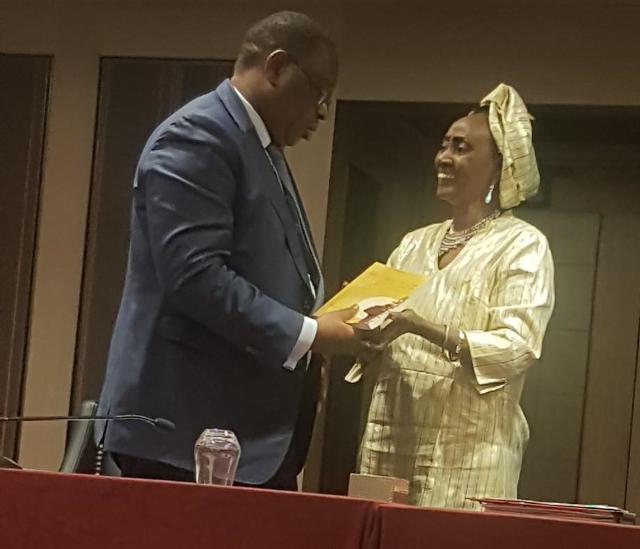 Presentation of her book to the President of SENEGAL, Macky Sall.
DISTINCTIONS, PRIZES AND AWARDS
• CERTIFICATE OF ADVANCEMENT from Temple University (Departments of African American Studies), Philadelphia, USA, October, 21th 2016;
• GENERAL GOVERNOR OF CANADA AWARD for the "Affair Person", October 15, 2005; She was the first African-Canadian to receive this prestigious Award that the Government of Canada awards to the citizens who distinguished themselves in activities for the Gender Equity;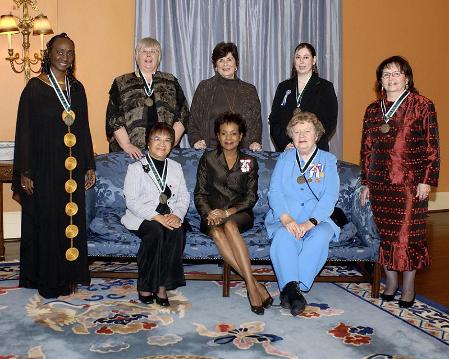 With the former General Governor of Canada, Michaelle JEAN, and the Recipients of the Person Award.
• CERTIFICATE OF HIGH APPRECIATION by the CI-AF _Inter-African Committee on Traditional Practices (FGC-excision, force-feeding, etc.) ", Burkina FASO, April 26, 2014.
• AWARD OF EXCELLENCE, "Téranga 2006" by the General Group of Senegalese in Canada (RGSC), April 15, 2006; then CERTIFICATE OF RECOGNITION on April 31, 2016;
• PRICE OF "CITIZEN SOCIALLY COMMITTED" by REPAF, May 12, 2012;
• MEMBER OF THE EXPERTS COUNCIL DELEGATION of the General Governor of Canada during its first state visit to Africa (Algeria, Ghana, Mali, South Africa and Morocco), Nov. 18 - Dec. 11 2006;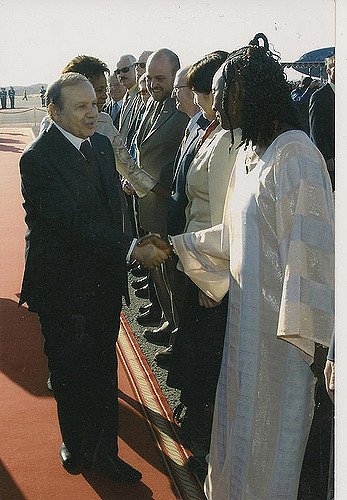 Introduced to the President BOUTEFLIKA - President of Algeria - Visit ofGeneral Gouv. of Canada
• Personnality of the Month for the Black History (MHN), Quebec, 2001 Edition;
• MHN Personality of the Year (2006) alongside Rosa Park, Michaëlle JEAN & Seneya Sène;
• CERTIFICATE OF APPRAISAL of the Secretariat for the Condition of Women in Canada, Quebec and Nunavut Region, February 2005;
• Showing up in the book WHO is Who in Black Canada, October 2002, page 244;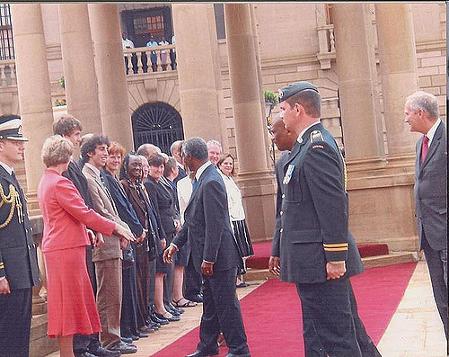 Introduced to Tabo MBEKI - President of South Africa - Johannesburg Nov. 2006
• 2001 FLAME OF EXCELLENCE by the Community Recognition Gala (GRC), Montreal, May 19, 2001;
• 2000 WOMEN OF MERIT PRIZE, Women's YWCA, Community Services category;
• Mentioned in the UMBRELLA ALBUM of the University of Montreal (UDM): 20 years of women's history (1976 - 1996), p. 86; developed by the UDM Women Status Committee.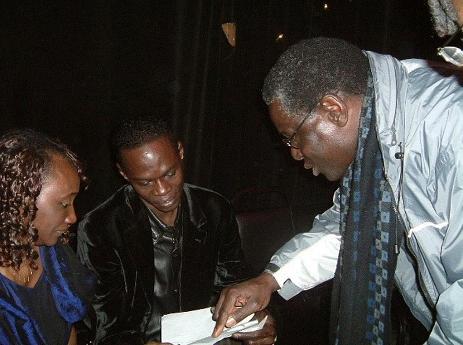 With the artist BaaBa MAAL and the historian Dr. Oumar DIOUME
OTHER ACHIEVEMENTS
- The creation of the Network "African Women, 2015 Horizon " which became DiaFémA, AfricanDiaspora female African (North and South of the Sahara) in Quebec / Canada, an OSBN whose mission is to contribute to the full and complete integration of African immigrant and refugee women in Canada whose priority is the prevention of Female Genital Mutilation (FGM) excision and, in the long term, its eradication in the world;
- Representation of Quebec Women at the Rio Summit on Environment and Sustainable Development in Rio de Janeiro, even if I did not have the status of Canadian immigrant. This was due to my expertise acquired in my country of origin;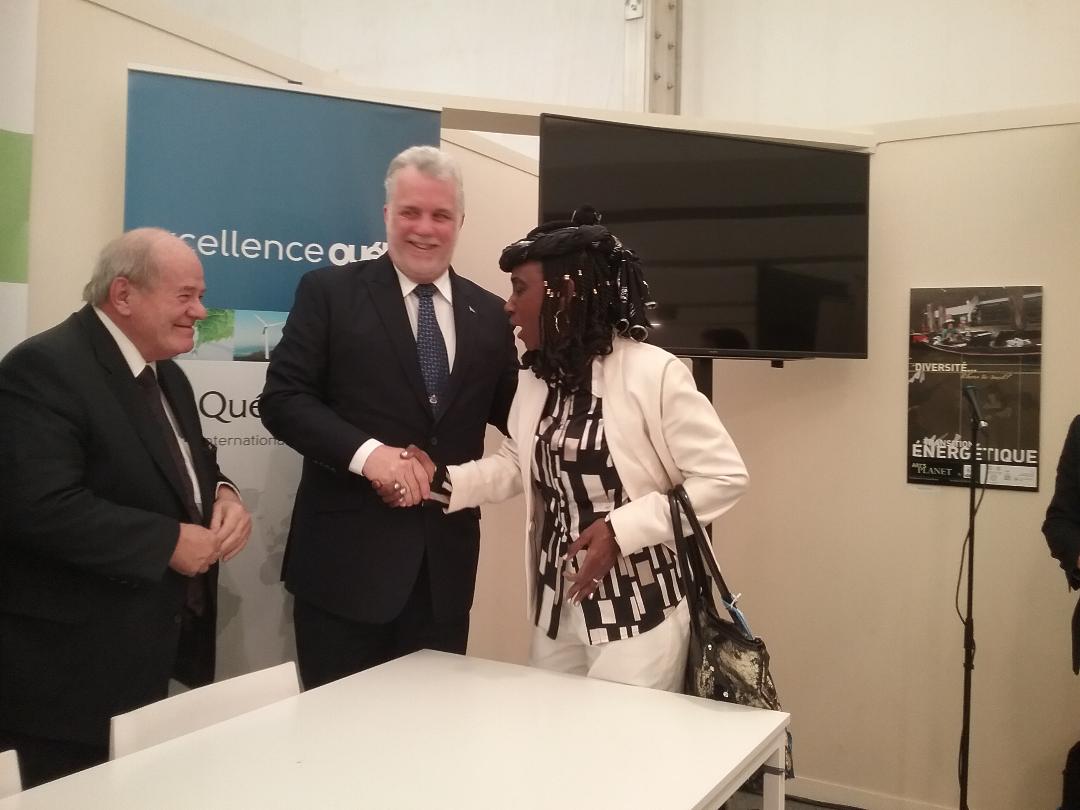 With the P.M of Quebec Philippe Couillard - Marrakech oct. 2016
- Initiated the Community Mobilization Project for the Prevention of Female Genital Mutilation (FGM) in Quebec / Canada and their eradication around the world. Thanks to funding from the Secretariat for the Condition of Women, Joint Committee Public Safety Quebec, Justice Canada and the Quebec Ministry of Health, the FAH2015 Network organized 8 forums (1 National Awareness Forum [media and general public]:
One (1) community forum for immigrants in Quebec;
Three (3) Education Forums for students, professors and researchers at UQAM, University of Laval and Ottawa;
One (1) Political Forum at the Quebec National Assembly for policy makers [MPs, Ministers, Prime Minister];
One (1) Forum legal [legal professionals: judges, lawyers, refugee status commissioners, etc.]
One (1) Health Forum [nurses, gynecologists, health and social services agents].
The forums received wide media coverage (23 articles + interviews including Radio-Canada Journal (coordinator) and RDI (UN representative). They were also falling off the taboo to talk about it.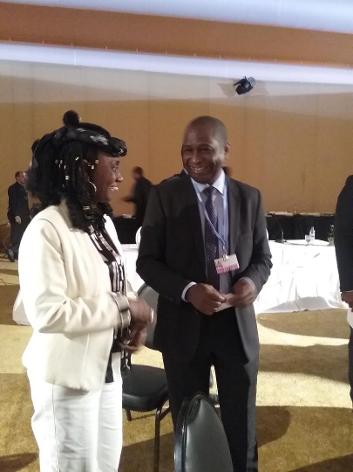 With Adama Ouane, General Administrator of the IOF -

COP22 Marrakech 2016
In the cell where Nelson MANDELA spent 18 years of his life; With the Minister of Culture of South Africa, the Canadian journalist Moise MOUGNAN and others.
Giving thanks & acknowledgments:
Doomu gaïnde, Gaïnde laa. You are the Real Gaïnde !
ONGOING PROJECTS OR FUTURE AMBITIONS:
Closing & publishing of a book on "Female genital mutilation: cultural value or sexual repression?".