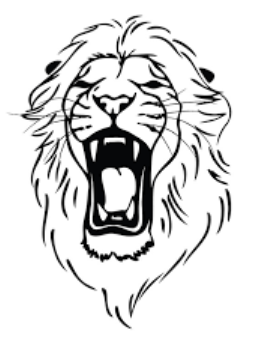 SHARE A PROJECT THAT CAN BE IMPLEMENTED WITH A POSITIVE IMPACT ON THE COMMUNITY, AT A NATIONAL OR INTERNATIONAL LEVEL .
SOME INITIATING & PLANNING PHASES ARE REQUIRED.
SEE BELOW FOR MORE DETAILS*:
1) INITIATING PROCESS GROUP
1.1: DEVELOP PROJECT CHARTER
It is the process of developping a document that formally authorizes the existence of a project and provides the project manager with the authority to apply organizational resources to project activities. The key benefit of this process is a well-defined project start and project boundaries, creation of a formal record of the project, and a direct way for senior management to formally accept and commit to the project.
1.2: IDENTIFY STAKEHOLDERS
It is the process of identifying the people, groups, or organizations that could impact or be impacted by , analyzing a decision, activity, or outcome of the project, analyzing and documenting relevant information regarding their interests, involvement, interdependencies, influence, and potential impact on project success. The key benefit of this process is that it allows the project manager to identify the appropritate focus for each skateholder or group of skakeholders.
2) PLANNING PROCESS GROUP
2.1: DEVELOP PROJECT MANAGEMENT PLAN
It is the process of defining, preparing, and coordinating all subsidiary plans and integrating them into a comprehensive project management plan. The key benefit of this process is a central document that defines the basis of all project work.
Based on your project, you will have to select the appropriate inputs or subsidiary plans, listed below, which should be associated to your project management plan:
- Scope management plan;
- Scope baseline;
- Schedule management plan;
- Cost management plan;
- Quality management plan;
- Requirement management plan;
- Human resource management plan;
- Procurement management plan;
- Process improvement plan;
- Risk management plan;
- Stakeholder management plan;
- Communications management plan.
The rest of the project management processes (planning, executing, monitoring & controlling, etc.) are not requested for this contest.

FOR THIS CONTEST, GIVE FREE REIN TO

YOUR CREATIVITY/ KNOWLEDGE/ KNOW-HOW

VIA

YOUR SKILLS/ EDUCATION/ EXPERIENCE AND AMBITIONS

TO DISTINGUISH YOURSELF FROM OTHERS AND THUS EXPRESS YOUR TALENT IN A PRODUCTIVE WAY.
JURY MEMBERS WILL SELECT THE MOST ATTRACTIVE PROJECT THAT HAS THE BIGGEST POTENTIAL. AMONG THE REWARDS THAT THE WINNER WILL RECEIVE, WE CAN LIST:
- INVITATION FOR 2 PEOPLE AT THE 2019 REAL GAINDÉS' CEREMONY;




- REAL GAINDÉ's SHOES;


- VALUABLE CONTRIBUTION TO THE PROGRESS / REALIZATION / IMPLEMENTATION OF YOUR PROJECT : AN ADVERTISING PAGE PROMOTING YOUR PROJECT & INVITING SPONSORS TO JOIN IT OR TO FINANCE IT.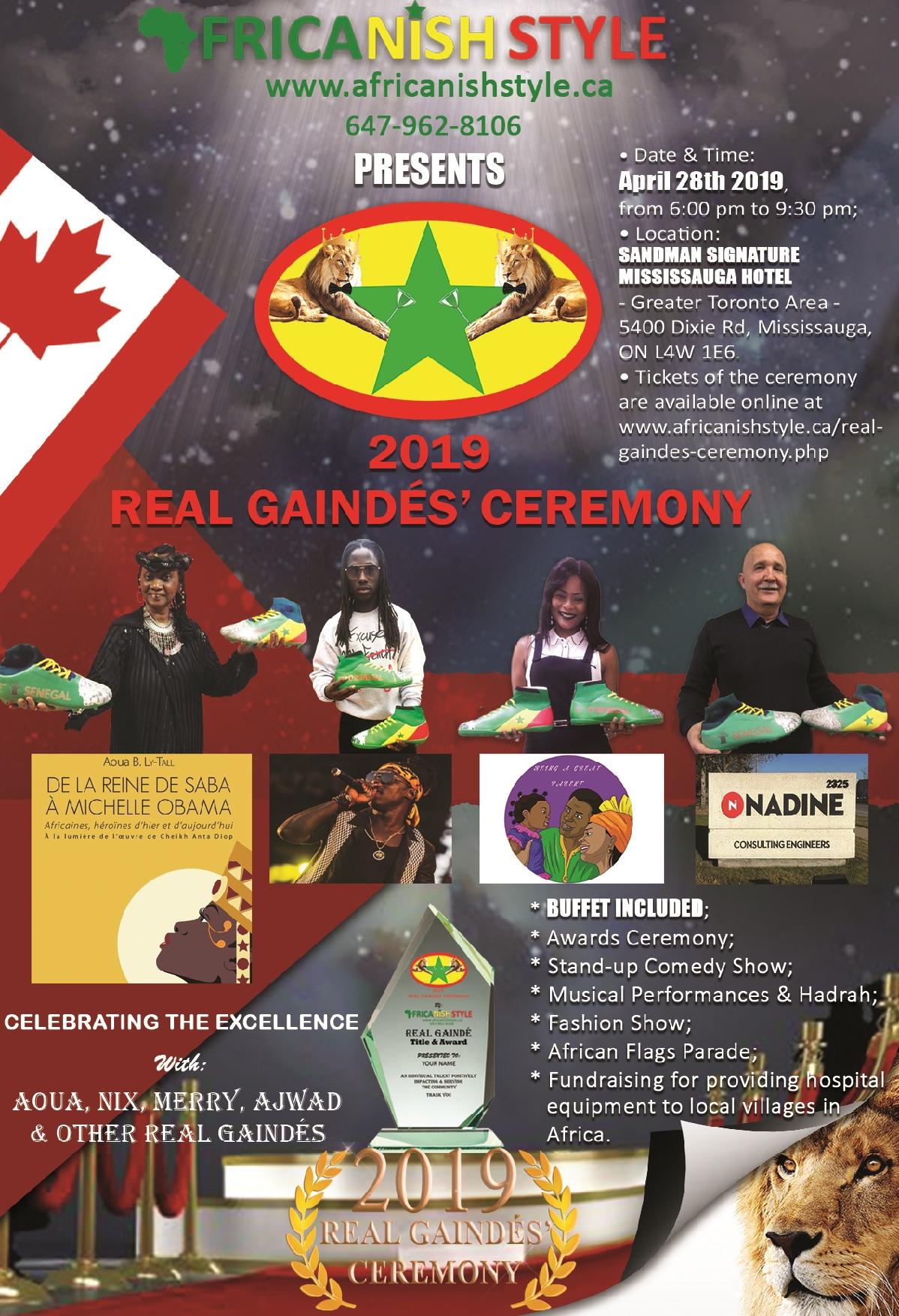 * Taxes (13%) are not included.
SUBMIT YOUR APPLICATION AND THEN EMAIL YOUR eTRANSFER & ALL DOCUMENTATION ASSOCIATED TO YOUR PROJECT AT

info@africanishstyle.ca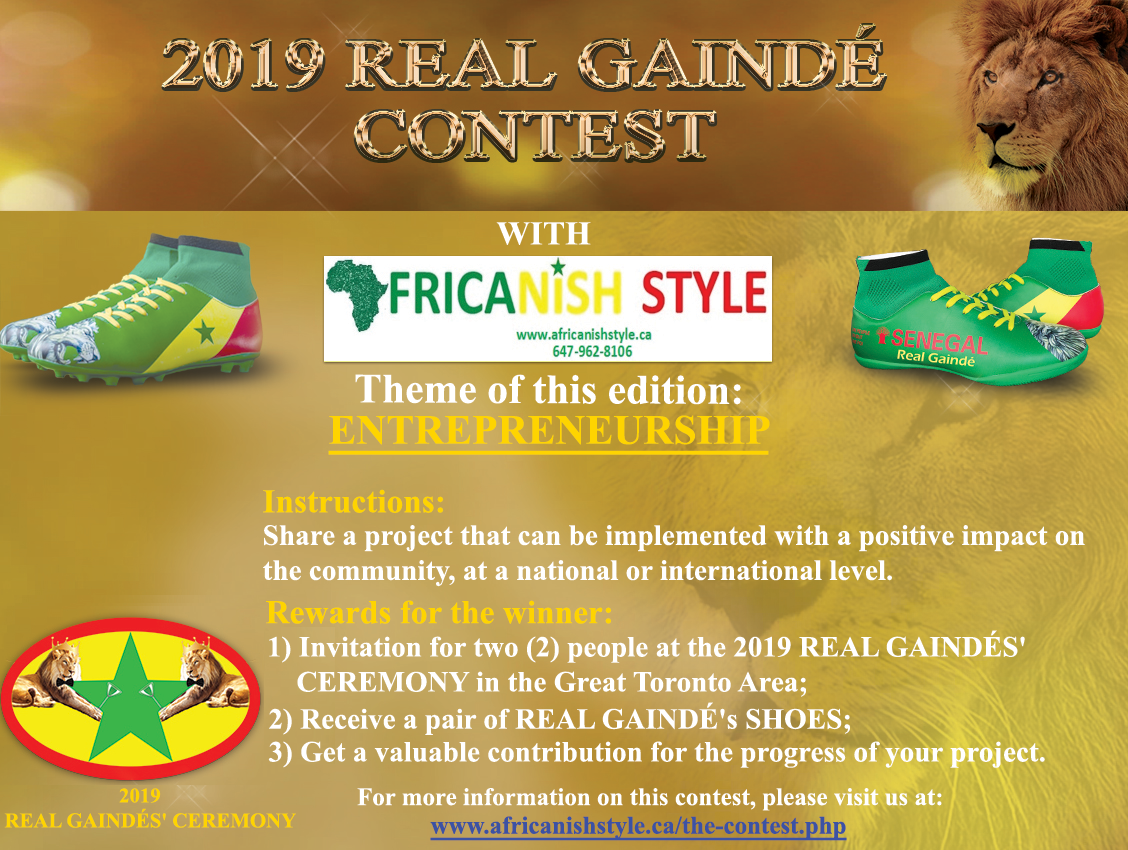 WINNER OF THE 2019 REAL GAINDÉ CONTEST:
GUELADIO CIRE BA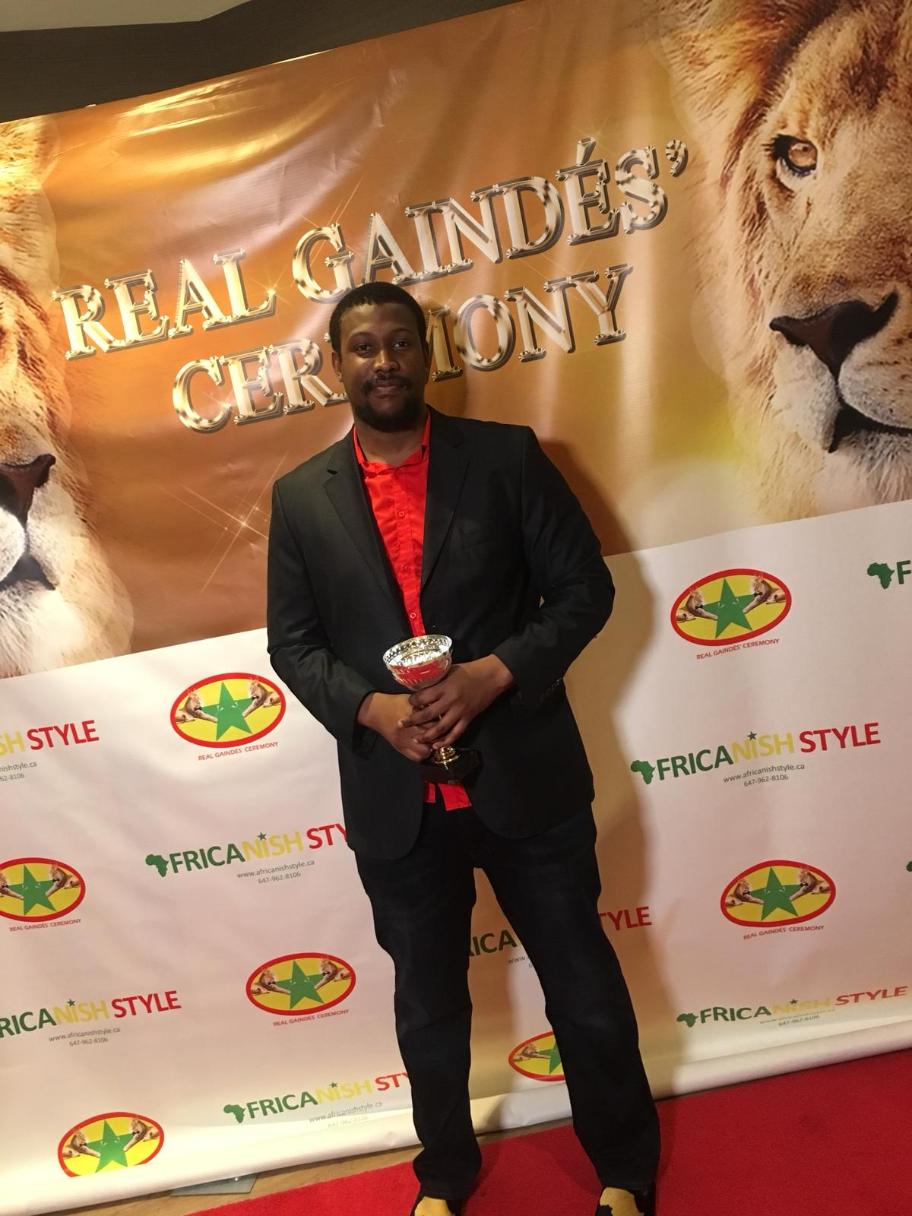 For more details on his winning project, please click HERE.